RADx-UP Image Bank
The RADx-UP Image Bank is a collection of photos for RADx-UP affiliates to use in communications and recruitment materials. These images are meant to reflect the diversity (racial/ethnic, gender, socioeconomic, ability, etc.) represented throughout RADx-UP research projects. These images portray a variety of clinical and community-based settings and activities.
The RADx-UP CDCC built the Image Bank in two ways: professional photography sessions and community photo submissions. The professional photography initiative partnered with selected RADx-UP project sites and professional photographers to capture images that represent the diversity of their community. Community photo submission, on the other hand, welcomes photo submissions from any member of a RADx-UP project team, community partners, participants, and staff.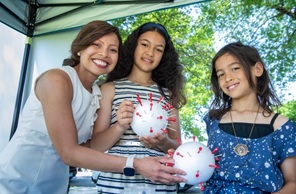 PROFESSIONAL PHOTOGRAPHY
7 RADx-UP project teams participated in the professional photo sessions. These projects have a coordinator to assist with "model" enrollment (up to 25 per site), scheduling, photographer selection, consent forms and communications.
Individuals who appeared in photos ("models") received gift cards as compensation.
COMMUNITY PHOTO SUBMISSION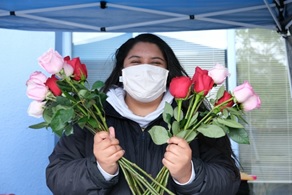 RADx-UP project staff and community members are invited to submit photos they have taken themselves. These photos can tell the story of how COVID-19 has affected one's family, community, career, relationships, and other aspects of life. Similarly to professional photography, the goal is for these photos to reflect the diversity (racial/ethnic, gender, socioeconomic, ability, etc.) represented by the RADx-UP research project population and settings.
While RADx-UP community photographers submitting photos will not be paid, they will be entered into a raffle to receive a $150 digital gift card prize (for a limited time).
All submitted photos meeting the criteria on this page will be eligible for the drawing. However, not all photos submitted will be selected for the Image Bank.
Who can use the Image Bank photos?
The community partners, RADx-UP CDCC, and all RADx-UP projects sites will be authorized to download and use submitted photos for RADx-UP related communications, outreach, and dissemination. The RADx-UP Image Bank will be housed in the Duke Clinical Research Institute (DCRI) Box file storage which is secure for use by authorized users. Anyone RADx-UP affiliated team needing access is requested to let their EIT know.
How can I access Image Bank photos?
To request access to the RADx-UP Image Bank, complete this form. You will have the option to either request access to the Image Bank and select photos yourself or to request that we select photos from the criteria listed on this form. Photos must only be used for RADx-UP purposes.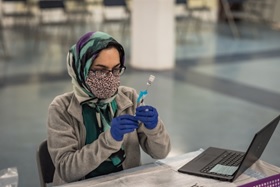 Consent Requirements
All persons appearing in the photos must complete and upload a consent to be included in the RADx-UP Image Bank. Separate consent forms are available for adults and minors and may be available in multiple languages. Download the adult consent form or the consent form for children to be completed by their parent or guardian. Images of people receiving medical services will not be accepted due to the Health Information Portability and Accountability Act of 1996 (HIPAA).
Community photo submissions must obtain and upload consent forms for each individual who appears in a photo (exceptions such as indistinct crowd scenes will be determined by the CDCC.) Consent forms are approved by the Institutional Review Board (IRB) at DCRI. Photo uses may include, but are not limited to:
RADx-UP project recruitment materials

RADx-UP CDCC meeting slide templates

RADx-UP dissemination materials, publications,

journal supplements

​

RADx-UP project

and CDCC websites
Contact Hailey Leiva if you need more information or a translated consent form.